Volunteer Vietnam
Our mission is to connect people with locals in need in Vietnam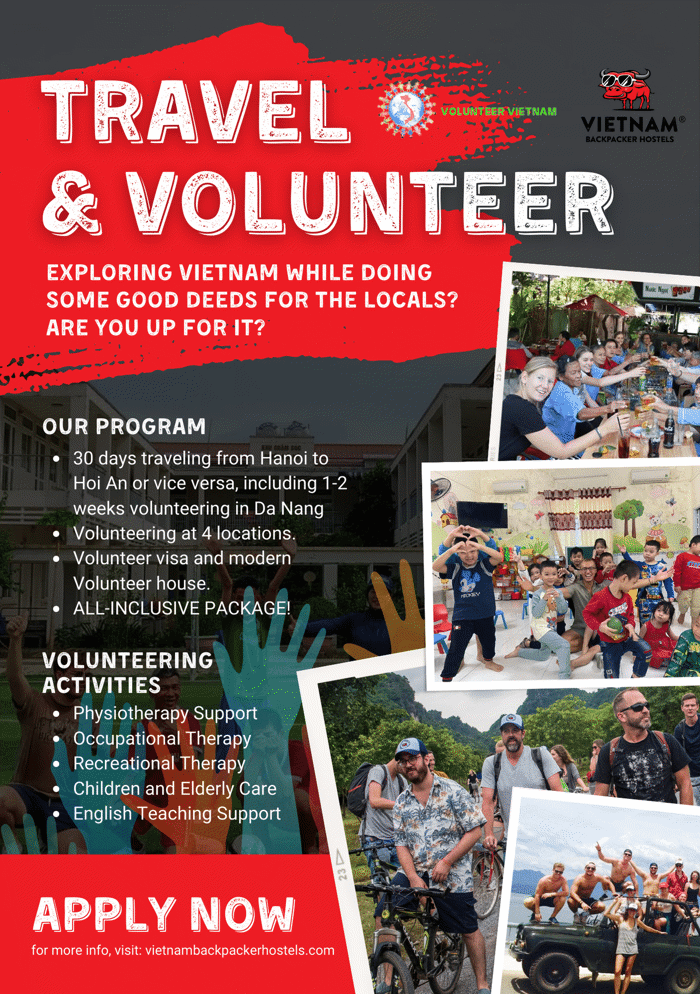 Why Combine Travel & Volunteering?
Traveling and volunteering are important activities that can have a profound impact on personal growth, as well as on the communities and environments we visit. When we travel, we expose ourselves to new cultures, perspectives, and ways of life that challenge our assumptions and broaden our understanding of the world. By volunteering, we can also contribute to the well-being of local communities, support environmental initiatives, and develop new skills that can be applied to our personal and professional lives. Moreover, traveling and volunteering can foster personal development, such as enhancing interpersonal communication, building self-confidence, and increasing cultural competence. By combining the two activities, we can create meaningful travel experiences that not only benefit ourselves but also have a positive impact on the world around us. Whether we volunteer for a few hours, a few weeks, or a few months, traveling and volunteering can be transformative experiences that promote personal growth, cultural exchange, and global citizenship.
The Volunteer work ranges from English teaching to working with physiotherapy patients at the local social support center, socializing through outdoor activities and sports, and assisting at the "school of possibilities, working with children and adults who suffer from disabilities.
The Program
VBH has teamed up with partners from around the globe, with the aim of combining volunteering with travel in Vietnam, our current program gives volunteers the opportunity to make a meaningful difference in a community and also having the chance to explore the country, culture and o create lasting memories that last a lifetime. Please note that this is a 'pay-to-volunteer' program, two weeks, all-inclusive.
1 Week Travel (optional)

2 Week Volunteer Program
1 Week Travel (optional)
Please submit your contact if interested and our team will provide you with all the necessary details and take you through the application process.
START DATES IN 2023
The Volunteer programs are available from Jan to November every year. Start dates are flexible. However, we expect volunteers to arrive at the beginning of a week when our staff are available to pick up and give you orientation and training programs.
What's Included (inclusive over two-week period)
Accommodation, food, and transport: We accommodate volunteers in a volunteer house called Green House. The house is 4km from the city center. The house is very comfortable to live in with modern facilities such as 5 bedrooms that can sleep 20 volunteers, a garden rooftop relaxing area, a walk-in outdoor garden also fully furnished for a relaxing time, a big dining room with a kitchen, a TV lounge, a computer desk with 4 state of the art computers, full wifi internet and printers.
The bedrooms are equipped with western toilets and showers, bunk beds with soft mattresses, pillows, blankets, and AC. It is a place for volunteers to live but also relax or do homework or school assignments.
We provide volunteers with 3 meals per day from Monday to Friday and breakfast on Saturday. During the rest of the weekends, we will recommend some local restaurants in the city for you to try. We have a full-time cook who cooks the meals for volunteers. Meals are half Vietnamese and half Western cuisines.
We transport you to work by a volunteer car. Our staff team will be your guides and assistants during your stay in the program. They all speak excellent English and know everything about the volunteer programs.)
Volunteer Visa Letter & Volunteer Work Permit
Private Airport Pickup & Daily Transfers
Welcome Dinner on Arrival
City Tour on Arrival
3-Day Training Program
Modern Volunteer Housing & Facilities
3 Meals per day – Monday to Friday
Weekend Breakfast
24/7 Support Staff
Vietnamese Culture Sessions & Donation

Vietnamese language and cultural introductory
1 cooking class,
Dinner & Drinks with staff and locals
Donation of foods, materials, and activities for the disadvantaged
The Travel
Vietnam is known for its diversity, throughout its culture, its history, its landscape, and the range of destinations to discover, diversity is a word that captures its essence. VBH has been the leading travel and tour operator in Vietnam since 2004, always with the same mission, sharing our love of Vietnam with people from around the world.
Joining our Volunteer & Travel program will allow you to see this amazing country from a unique perspective, see amazing destinations, experience the culture like a local, taking part in activities that you will never forget.
Travel from the North of Vietnam to the South (or in reverse) seeing everything this beautiful nation has to offer and creating memories along the way that will last a lifetime. We have a tailor-made guided tour made for our Volunteers that leaves no stone unturned, everything is included from transport to accommodation, meals, and entrance fees, from start to finish, you have nothing to worry about. Arrive, Travel, and Volunteer, the only thing left to do is tell us how much you love Vietnam!