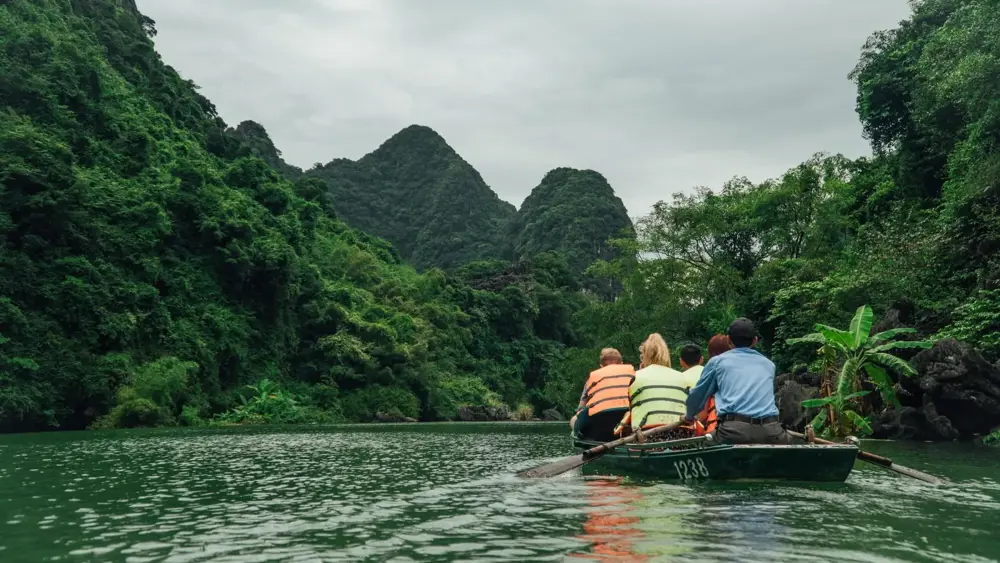 Known as the Halong Bay on Land, this region is famous for its natural attractions, with towering mountains surrounding the rice fields and the rivers, you can see where it gets the nickname! There are so many natural sights to explore in the area including, rivers, caves and mountain top climbs, the natural beauty of this place is jaw droppingly beautiful.
What's Included?
Transport
Entrance Fee
Local Guide
Meals
Accommodation

Ninh Binh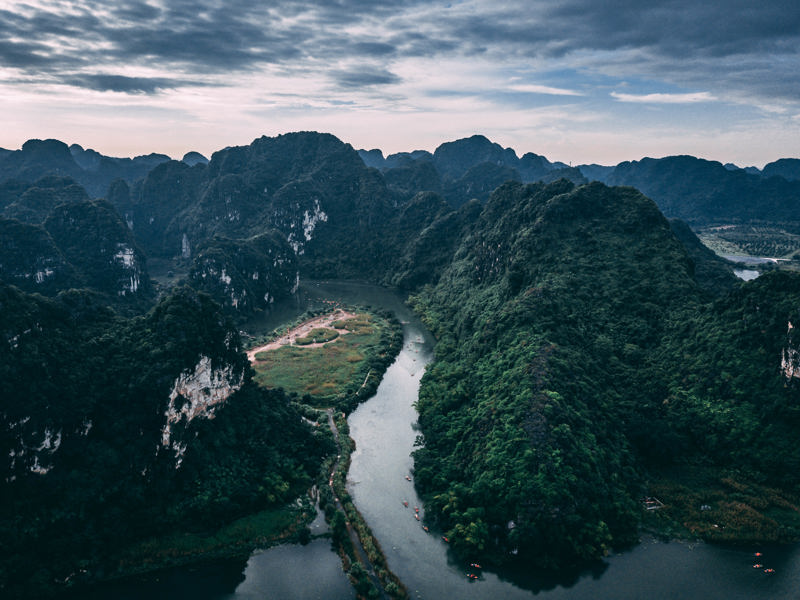 Day 1
Hanoi - Hoa Lu - Tam Coc - Mua Cave
7:30am Get picked up by our guide then depart for Ninh Binh province.
10h30: Visit Hoa Lu Ancient Capital of Vietnam between 968 and 1010. You have a chance to learn about Vietnamese history in the feudal system under the Dinh, Le and Ly Dynasty. Here, we go cycling around the village for sightseeing & discovering the life of the local people.
12h30: Have a buffet lunch in the restaurant with many local foods such as goat meat, fish, chicken, and fried rice…Vegetarian foods are always available in the buffet lunch.
13h30: Visit Tam Coc by 1.5-hour bamboo boat. You will be surprised by the charming beauty here with paddy fields, river, water, cloud, sky, and a stunning cave system during the boat trip. All make a masterpiece that the Vietnamese people called "Ha Long Bay on land".
15h30: Get back to the bus then leave for Mua Cave (Dancing Cave). Walk up almost 500 steps, you can reach the top of Lying Dragon Mountain & have an amazing panoramic view of Tam Coc from here.
17h00 : Check in the accommodation then free time to relax.
19h00 : Have dinner at the accommodation then walk around Tam Coc for a walk.
Day 2
TAM COC – BICH DONG - THAI VI - THUNG NHAM - HANOI
Have breakfast at the accommodation, then be ready for the trip.
9am: Get picked up by our friendly guide then cycle to visit the Thai Vi temple and Bich Dong pa goda (the second most beautiful cave in Vietnam).
11h30: Check out and have lunch in the restaurant with a lot of local foods such as goat meat, fish, spring roll, fried rice…Vegetarian foods are always available at lunch.
14h00: Continue to Thung Nham Bird Valley. Get on a small sampan to discover Hang But (Buddhist Cave), about 500m in length, a magical view of the stalactites and stalagmites, and see a big Buddha-shaped stalactite sitting beside an underground river, as well as visit an orchard of tropical fruits in this area. The best time for the bird park is in the afternoon, sit quietly on a boat and slowly paddle through Thung Chim (Thung Nham), discovering the most features of this area with more than 4,000 birds of 40 species flying to inhabit every day. Your best chance to take nice photos and immerse yourself in the wild and nature.
16h00: Get on the bus to return to Hanoi.
18h30: Get dropped off at hotel in Hanoi.