Explore
Ha Giang Loop 4D3N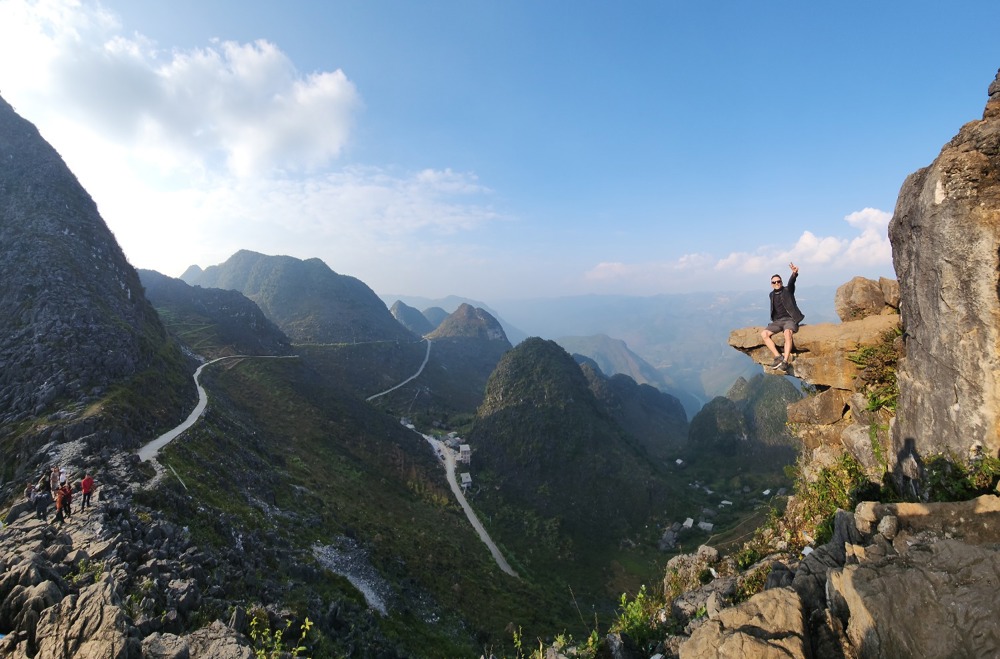 $319.00 Open Back Truck (min 5 pax) 4D4N

Ha Giang is a province in the far north of Vietnam that is known for its rugged and mountainous terrain, making it a popular destination for motorbike touring. The area is home to a number of ethnic minority groups, and the landscape is characterized by terraced rice fields, winding roads, and dramatic sights, a must-see destination! From the immersive local experience in Du Gia to the off-the-beaten-track adventure along the Nho Qu River, each day brings new thrills and discoveries. Marvel at panoramic vistas, trek through pristine nature and relax in local homestays. With our unmatched organization, carefully chosen accommodations, and limited group sizes, you can expect a truly unforgettable journey through Ha Giang. Get ready to create lifelong memories on this thrilling and culturally immersive tour.

Starting in Hanoi, choose to set off for Ha Giang by Limousine Bus or
the Overnight Sleeper Bus option. Upon arrival in Ha Giang, you will
be welcomed to the Homestay where you can stay the night before
starting the Ha Giang Loop.
What's Included?
Return bus ticket Hanoi - Ha Giang - Hanoi.
English-speaking local guide.
Bike hire with gasoline.
Boat trip on Nho Que River.
Accommodation at local homestay or hostels.
Meals as mentioned
Sightseeing entrance fees.
What's not Included?
Drinks at mealtimes.
Tips.
Travel insurance.
Personal expenses.
Ha Giang
Day 1: Du Gia - Immersive Local Experience
Depart early in the morning and embark on your journey towards Du Gia.
Along the way, soak in the stunning landscapes and picturesque views that Ha Giang has to offer. Experience the local culture by participating in meaningful activity, such as offering food to community families and truly seeing how the locals live. Arrive in Du Gia in the afternoon and settle into your accommodation. Take a refreshing swim at a nearby waterfall, surrounded by the beauty of nature. Enjoy the evening in Du Gia, savoring the tranquil atmosphere and taking in the breathtaking surroundings.
Day 2: Off the Beaten Track Adventure
Start your day with an exciting off-the-beaten-track experience.
Embark on a thrilling rafting adventure on the Nho Que River, immersing yourself in the stunning natural surroundings. Explore dark caves along the river, where you can swim and marvel at the underground beauty. Continue your journey through caves on foot, discovering hidden gems and picturesque spots. Arrive in Meo Vac, where you'll be treated to a spectacular view of the valley from your room-with-a-view. Relax and unwind in the serene ambiance, reflecting on the day's adventures with a cold beer.
Day 3: Scenic Roads and Ethnic Minority Village
Begin the day with a scenic drive along the Ha Giang Loop, stopping at famous viewpoints along the way. Take in the panoramic views and capture unforgettable photos of the rugged landscapes. Embark on a trek that reveals breathtaking valley views, taking you through pristine nature. Make a stop at a local ethnic minority village and immerse yourself in their unique culture as you spend the night there, nestled amidst the stunning surroundings. Indulge in the luxury of an infinity pool, where you can unwind and enjoy the panoramic views.
Day 4: Quan Ba to Ha Giang - A Relaxing Morning and Farewell
Start the day with a leisurely morning in Quan Ba, allowing you to savor the last moments of this incredible journey. Take your time to appreciate the breathtaking views and soak in the serenity of the surroundings. Enjoy a leisurely breakfast, reflecting on the unforgettable experiences and memories made during your Ha Giang Loop adventure. Bid farewell to the scenic landscapes as you make your way back to Ha Giang. Board a comfortable bus that will take you back to Hanoi, allowing you to relax and reminisce about your incredible journey. Use this time to share stories and connect with your fellow travelers, creating lasting bonds and friendships. Arrive in Hanoi with a sense of fulfillment and a treasure trove of memories from your Ha Giang adventure.